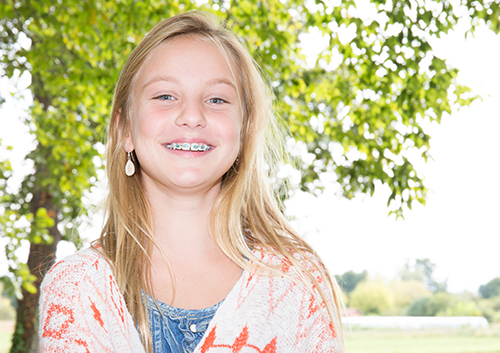 One of the most common reasons for getting braces is because there's just not enough room for all your teeth to fit next to each other evenly. The result is overlapping and crooked teeth. What's the first step in creating the space you need? Well, that depends on just how much room you need to align your teeth and bite properly.
When there is going to be a serious need for space, there are orthodontic solutions that can help, including palatal expanders, surgical options, and extractions. But if you only need a tiny bit of room so that regular braces will fit properly, we have a tiny solution—orthodontic spacers!
Why do you need to make space before you get braces? Because Dr. Carr might need to make some room around crowded molars so your braces can be installed properly.
For example, you might need orthodontic bands to anchor your braces. An orthodontic band is a slim, custom-fitted ring of metal which fits snugly around a molar. It is durable, provides a place to attach bands and springs to help correct malocclusions (bite problems), and can securely surround a tooth that might be weak because of a large filling. Spacers can separate crowded teeth just enough to allow a band to be fitted around a molar.
Even if you don't need bands, sometimes separators are necessary to provide enough space between the teeth for your braces to work effectively. The back teeth tend to move even closer together with braces, and, without adequate space, bite problems, risk of decay, and other difficulties can arise.
And while you might think that some serious equipment is in order to make room between those sturdy molars, the typical spacer, or separator, is actually extremely simple--usually a tiny, round elastic band, often made of rubber. Spacers can be placed between tight teeth in a matter of minutes. Each ring is stretched and positioned between your teeth with a special tool. As it returns to its original shape, the spacer's width provides just enough pressure on the teeth it touches to make a bit of space between them. And a bit of space is usually all you'll need.
What do spacers feel like? For some people, they can be uncomfortable. You might feel soreness, some pressure, or as though a piece of food is stuck between your teeth. Ask us for suggestions on making you more comfortable, whether it's dining on ice cream and cold drinks, eating soft foods, or taking over-the-counter pain relief. Separators are only designed to be in place for a very short period (usually under two weeks), but if they are causing you pain, give us a call.
What do you need to do to help the process along? Actually, it's more what you need not to do. Don't use dental picks or floss on your separators, avoid chewing gum, and take chewy and sticky foods off the menu. And don't be tempted to touch or play with your spacers!
Spacers can create space between the teeth so quickly and efficiently that they often fall out on their own after a few days. If your separators fall out, give our Lewis Center office a call. It could mean that you are ready for your braces, and on the way to a lifetime of healthy, beautiful smiles. And it's a journey that begins with a tiny, springy step.